---
Plein Aire Canvas Painting Workshop
---
Painting "Plein Aire" means that most of the art is painted on location, not in the studio or from photos.

Plein Aire Canvas Painting Locations
We will be Plein Aire painting outdoors (weather permitting), on location, in select areas of St Louis and parks. The Plein Aire paintings will include but not be limited to skies, trees, water, and small buildings. In inclement or cold weather we will move to the studio to finish painting from reference material.

Plein Aire Workshop Painting Materials
You will be supplied with all Plein Aire painting materials and can keep the brushes. The Plein Aire paintings will be on 8 x 10 inch, pre-coated canvas panels (hardback) in artist's acrylics.

Plein Aire Painting Duration
Each Plein Aire painting will take approximately two hours to finish. A demonstration painting will be created by the instructor onsite, then each student will choose a scene and begin Plein Aire painting with assistance from the instructor.

We'll lunch together in some of the "artsy" historic districts of St Louis, bring your camera!

Plein Aire painting offers some challenges not normally found in the usual faux finish job: finding a good location is essential, weather and lighting can change quickly in Plein Aire painting, and the amount of time available can dictate the outcome of the painting.
---
Daily Plein Aire Schedule
9:00 am: meeting at the school
9:15 am: shuttle to location
9:30 am: instructor Plein Aire demo
10:00 am: student Plein Aire painting
12:30 pm: lunch
1:30 pm: instructor Plein Aire painting
2:00 pm: student Plein Aire painting
4:30 pm: review / Plein Aire paintings
5:00 pm: shuttle to school

Prerequisites / Skill Level: Our "Trompe l'oeil - Mural" painting class or prior basic experience in mural, plein aire or fine art painting.
Cost: $750.00 Hours: 9:00 a.m. to 5:00 p.m.
---
Next Plein Aire Painting Class
To Be Announced!
---
| | |
| --- | --- |
| | for schedule / pricing! |
| | to pre-register for this class |
---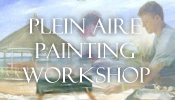 Instructor's paintings from
his many Plein Aire trips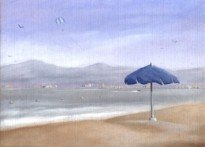 Puerto Vallarta, Mexico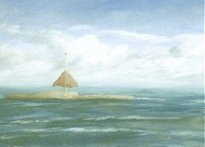 Yuccatan, Mexico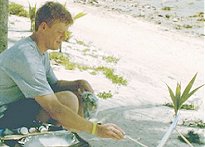 Instructor painting in Mexico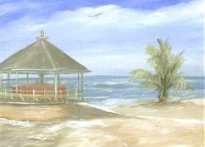 Ocho Rios, Jamaica