---
Tour

Classes
Schedule

Classroom

Instructor

Sign-up

Location

Lodging

Students
Graduates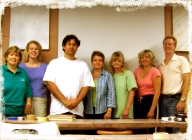 Testimony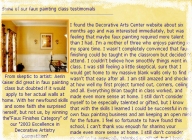 Contest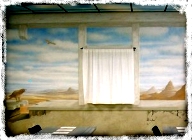 News
Site Map

Contact

Faux
Brushes
---
---
---
---
"2003 Excellence in Decorative Artistry" Winners
Judging was based on the use of design, color, value, translucency,
illusion of the faux finishing, venetian plasters and
murals / trompe painting as well as the amount of finishing / painting surface.
---
---

Faux Finishing & Other Finishes, $300 cash prize
2003 DAC Graduate Aerin Kaiser, Missouri- Home Office

---

The artist encompassed the full room with faux painting and even added raised Trompe l'oeil panels under the chair rail. The ceiling painting was done in a "Brushed Wash", the walls in a golden "Leather Effect" painting, and the panels were mottled with a finish prior to the light and shadow painting. A quote from Aerin:"I'm still shocked and amazed at how well my first project turned out - corners, ceiling and all".

---

Venetian Plaster, $300 cash prize
2003 DAC Graduate Sabrina Grisier, Ohio- Powder Room

---

The artist executed venetian plaster finishing of several layers, combining techniques learned in class. Unfortunately, our scanner doesn't do her beautiful venetian plaster justice, besides the fact that venetian plaster is notoriously hard to photograph. From Sabrina: "After adding the venetian plaster styles to my samples I felt I had that "edge" to take back to my clients...it's great being in such demand that I can pick the best finishing jobs and the people are willing to wait for me!".

---

Trompe l'oeil / Murals, $300 cash prize
2002 DAC Graduate Gary Parisi, Tennesee- Foyer

---

The artist designed and completed a Trompe l'oeil mural painting of excellent proportions for his client. The arched entry has a garden theme, the painting is complete with foliage, architectural painting , and walkways. Gary, who was formerly employed in the advertising and marketing field, has paid his dues in the field with continuing education in painting at our school and the completion of several large scale faux finishing, venetian plaster, and Trompe l'oeil / mural painting works.

---

Success in Artistry, Written Category, $100 cash prize
2003 Graduate Crystal Queen-Raulston, Texas - "My Former Life as an Office Manager"
This poetic artist surprised us with an inventive spin on life in the "written category". "I spend a lot of time with my son, these are the days I will cherish and if it weren't for Brian I would be missing them right now" Crystal writes. "I can't believe it has only been five months since I attended and so much has changed".

Click here for the "Honorable Mentions" of entries!
Ready for the 2005 contest?
Click here to read more and enter


---
Overview
Classes
Schedule/Prices
Classroom
Instructor
Sign-up
Location
Lodging
The Student
Graduates
Testimonials
Faux Contest
News
SiteMap
Contact Us
Faux Finishing Brushes & Tools
---