Tour / Info
Faux Painting & Mural Classes
Class Schedule

Faux
School
Class Instructor

Faux Class Sign-up

School
Location

Faux Class
Lodging

The
Student

Faux Class
Graduates
Customer
Testimony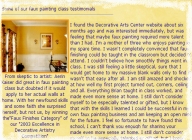 Art
Contest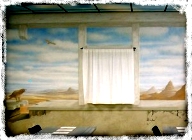 Fresh
News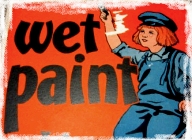 Site
Map

Contact
Info

Faux Painting
Brushes
---
---
---
Faux Class Schedule
The Heights - Houston, Texas
728 W. 19th, 77008, between Shepherd & Durham


Brian Bullard at 713-409-3373




Visitation by APPOINTMENT ONLY!




YES, we're one of the very few "faux & mural" schools in the nation!


Click on the image links to read more about the faux painting class.
---
*Included in all classes: samples, use of materials & tools, lunches, drinks, transpo to and from class daily if you stay at our designated hotel.
*You will take your samples with you, physically, wrapped in plastic, meaning no risk or fees involved in mailing, you can, however, mail if you like.
*Deposit is required to secure your space in class.
*If you're registered, it's happening! We do not cancel class!
Click here for a simple text schedule to print
Learn: Faux Finishing & Faux Painting Business
Best-selling career-oriented class in the industry since the year 2000!


Length: 3 days
Tuition: $1200
Deposit: $400
Samples: 15
Prerequisites: none
Click: Threeday Faux Finishing & Business
For: new to the trade, new businesses, existing painting or faux businesses, anyone.

"Threeday Faux Finishing & Business Painting" Class
( includes all aspects of the art, design, pricing, & business)
Mon-Wed, November 4-6
Mon-Wed, December 2-4
Mon-Wed, January 6-8
Mon-Wed, February 3-5
Mon-Wed, March 3-5
Click here to pre-register or to request a brochure!

Learn: Trompe l'oeil - Mural Painting & Business


The most practical instruction on designing, executing, & completing murals!
Length: 3 days
Tuition: $1200
Deposit: $400
Samples: 10
Prerequisites: none
Click: Trompe-Mural Painting


For:

new to the trade, new businesses, existing painting or faux businesses, anyone.

"Trompe l'oeil - Mural Painting Business" Class


Mon-Wed, November 11-13
Mon-Wed, December 9-11
Mon-Wed, January 13-15
Mon-Wed, February 10-12
Mon-Wed, March 10-12

Click here to pre-register or to request a brochure!

Learn: Furniture & Fixture Faux Finishes


You'll be amazed at the art & business opportunites that furniture painting offers!

Length: 2 days
Tuition: $800
Deposit: $400
Samples: 10
Prerequisites: none
Click: Furniture & Fixture Faux Finishes
For: new to the trade, new businesses, existing painting or faux businesses, anyone.

"Furniture & Fixtures Faux Finishing" Class
Mon-Tue, February 17-18
Mon-Tue, March 17-18
Click here to pre-register or to request a brochure!

Learn: Basic & Advanced Faux Finishing
Ideal for the homeowner, enthusiast, or existing business that just wants to learn the art of faux!
(Note: faux painting only, not pricing or business)
Length: 2 days
Tuition: $800
Deposit: $400
Samples: 10
Prerequisites: none
Click: Spring Fever Faux


For:

homeowners, hobbyists, contractors, existing faux businesses leaving faux product based methods

"Spring Fever Faux" Class
(faux painting only, not pricing or business)
Mon-Tue, November 4-5
Mon-Tue, December 2-3
Mon-Tue, January 6-7
Mon-Tue, February 3-4
Mon-Tue, March 3-4
Click here to pre-register or to request a brochure!r,

Learn: Venetian Plaster & Styles
For amateurs up to the pros -- anyone who wants to create stunning VP using locally available VP from HD or Lowes!
Length: 2 days
Tuition: $800
Deposit: $400
Samples: 8
Prerequisites: none
Click: Venetian Plaster Class


For:

new to the trade, new businesses, existing painting or faux businesses, anyone.

"Real Venetian Plaster" Class Dates


Mon-Tue, November 25-26
Mon-Tue, January 27-28

Click here to pre-register or to request a brochure!

Learn: Fine Arts Canvas Painting
For amateurs up to the pros -- step up your canvas painting skills and create a masterpiece!!
Length: 2 days
Tuition: $800
Deposit: $400
Samples: 6
Prerequisites: none
Click: Fine Arts Canvas Painting


For:

new to the trade, new businesses, existing painting or faux businesses, anyone.

"Fine Arts Canvas Painting" Class Dates
Mon-Tue, November 18-19
Mon-Tue, December 16-17
Mon-Tue, January 20-21
Mon-Tue, February 24-25
Mon-Tue, March 24-25
Click here to pre-register or to request a brochure!

Learn: Pet Portrait Painting


Offer realistic pet portraits in acrylic, with all the detail and expression of oils!
Length: 2 days
Tuition: $800
Deposit: $400
Paintings: 1-2
Prerequisites: none
Click: Pet Portraits


For:

homeowners, hobbyists, existing faux businesses looking to expand skills, muralists looking to expand offerings, anyone

"Classic Pet Portraits" Class Dates
By request, name your date
and we'll advertise it as a public class!
Click here to pre-register or to request a brochure!

Email or call to request a special training date!

"Customized Classes"
Length: One day minimum, five day maximum
Learn: a particular technique or something not offered
Tuition: $400 Daily
Deposit: to be determined


Paintings: to be determined


Prerequisites: none


For: homeowners, hobbyists, existing faux businesses looking to expand skills, muralists looking to expand offerings, anyone
---
Click here for a simple text schedule to print

Overview
Classes
Schedule/Prices
Classroom
Instructor
Sign-up
Location
Lodging
The Student
Graduates
Testimonials
Contest
News
Site Map
Contact Us
Faux Finishing Brushes & Tools
---

faux painting class schedule, trompe l'oeil - mural painting, venetian plaster,
faux marble painting, painting class, faux painting school, texas