---
Tour

Classes
Schedule

Classroom

Instructor

Sign-up

Location

Lodging

Students
Graduates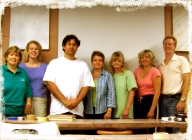 Testimony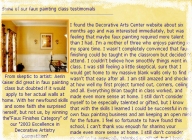 Contest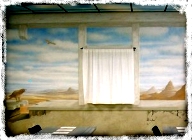 News
Site Map

Contact

Faux
Brushes
---
---
---
These pages hold the proof that we're one of the best
faux painting schools in the nation, these are our graduates...
---
"2004 Excellence in Decorative Artistry" Faux Painting Winners
Judging was based on the use of design, color, value, translucency,
illusion of the faux finishing, venetian plasterr and mural / Trompe l'oeil
painting as well as the amount of faux finishing / faux painting surface.
---
---

Faux Finishing & Other Painting Finishes, $300 cash prize
2001 DAC Graduate Sue Hon, Missouri - Kitchen Bath

---

Textured paint, metal leaf, and faux painting glazes are integrated into a real faux painting work of art for the walls by Sue Hon. More than eight layers and six days later one can see the result: a myriad of textures and values tactfully placed to create this beautiful, flowing faux finish. Sue has attended many faux painting schools in her time, when she called to attend she was a skeptic: not all of her experiences had been good. 15 minutes into class she told me that she had picked the right place. Sue has paid her dues in continuing education and the job and it shows in this winning piece.

---

Venetian Plaster, $300 cash prize
2004 DAC Graduate Missy Nance, Missouri - Dining Room

---

We had an abundance of VP entries this year, all of the work was excellent, in the final moment we asked: "who took a risk that worked?". Our answer was this venetian plaster dining room. A beige or or an off white would have worked easily here, Missy's answer was this color. The fine architectural elements support the weight of this value, the structures of the form are visible but not overbearing. The end effect is a warm balance between the formal and informal, and with the metal it has a slight southwest, mediterranean, or craftsman style appearance. Missy began her journey into faux painting and plaster out of interest, now she gets paid for it with her recently established faux business.

---

Trompe l'oeil - Murals, $300 cash prize
2003 DAC Graduate Martin Thurston, Missouri- Jungle Room Mural

---

The artist designed and painted an entire room with this jungle mural of stunning proportions
for his grateful client. Lifesize elements, tall foliage, and a misty background set the mood
in this mural work exceeeding two weeks. I remember speaking to Martin when he called about my mural painting class, he had painted before but had put the brush down after the birth of his daughter, so he was skeptical about his painting future. Over a year later, he has amassed a portfolio of
undoubtedly what is some of the finest Trompe l'oeil - Mural painting work today. Modest as ever,
Martin stated that he is "greatly honored" to be chosen as the mural painting category winner.

---

Success in Artistry, Written Category, $100 cash prize
2004 Graduate Dr. Mike Pignatiello, Ohio - "From Structured to Creative"

---

"Dr. Mike", as I call him, came to me with a vision: to gain a well rounded, fundamental education in decorative artistry and to start his faux business. His essay drives home the point that we can train anyone, from any background or profession,,,and possibly change their lives in the process.

"Can an analytical and structured person learn to be more artistic and creative? Yes! As my family psychology practice in Ohio began to clash with my own family time, I sought a new avenue that still could be both personally and financially rewarding, yet more compatible with my lifestyle. However, given that I am very non-technical and am not into reading a lot, where could I turn to?

The Decorative Arts Center faux school and Brian Bullard were my answer. Never an artist, but someone who enjoys painting a room, I searched hundreds of websites. I was continually drawn back to the DAC site, for it professed four vital attributes that I would eventually discover to be true: a frankness to state that getting the proper training before starting a business would be beneficial, no hidden agendas to purchase product lines, a graciousness to offer to not only teach his craft but to be accessible for "Faux Continued Support" after the faux class concluded, and a genuine sincerity to want his students to be fulfilled and succeed in the area that has brought him his own joy and passion.

So, in 2004, I took Brian's "Fourday Faux Finishing and Business Class", the "Mural / Trompe l'oeil Course", and finally the "Venetian Plaster Class". I continued my journey by applying his easily learned techniques in my own home, which is being transformed room by room, and yes, with the approval of a guy's two harshest critics: his wife and mother! I have greatly scaled back my clinical office, am with my family more often, and am going down the new avenue,,,which for me is certainly a "road less traveled", but as we once were taught, one that can be a very rewarding path to take".
Click here for the "Honorable Mentions" of entries!
Ready for the 2005 contest?
Click here to read more and enter


---
Overview
Classes
Schedule/Prices
Classroom
Instructor
Sign-up
Location
Lodging
The Student
Graduates
Testimonials
Faux Contest
News
SiteMap
Contact Us
Faux Finishing Brushes & Tools
---