---
Faux Finishing Design Class
---
This is a multi-media presentation and faux finishing class where you learn how to coordinate and select faux finishing colors, values, saturations, techniques, and design to a room.

Class begins with a projected multi-media presentation showing both modern day and historic period faux styled rooms, different faux finishes, and their proper as well as improper uses or application methods.

We will then cover basic color theory, tools, and common simple application methods in an instructor demonstration. All students are then given a scenario which is a mock faux design project. Elements such as cloth samples and tiles are presented as a guide for the room style.

Each student has two hours to go through resource material, painting a faux finish wall and trim sample for the project. Following completion, the instructor gives an evaluation of each faux finish design scenario.

Special note from instructor Brian Bullard: "It's not always the matter of a faux finish, but where to put it. Lack of good "faux finishing design" is the most common error we see in the field today. Hundreds of students of my "Fourday Faux Finishing & Business Course" have been so thrilled with this exercise that we have decided to offer it as a class. No business, no pricing, strictly faux design, no prerequisites.

You will go through a total of six exercises, painting 12 techniques in everything imaginable. Individuality is encouraged, as no two areas or faux designs are ever alike.

Uses: Faux design and historic period faux styling knowledge. Integrating proper color and faux painting theory into faux design and planning. For use with walls, ceilings, mantles, furniture, doors, columns, etc.

Prerequisites / Skill Level: None. Every learning level, from homeowners, hobbyists, college students, painting contractors, to future decorative artists and existing faux businesses.

Cost: $750.00
Duration: 2 days
Faux Samples: 12, six as wall samples, six on wood baseboard trim, with several techniques
Hours: 9:00 a.m. to 5:00 p.m.
---
Next Faux Finishing Design Class
June 3-4 Sat-Sun
(Backs to "History of Decorative Artistry"
Class of June 1-2 Thu-Fri)
---
| | |
| --- | --- |
| | for faux design schedule |
| | to pre-register for a class |
---
Learn to paint the "big picture", not just a faux finish. Ideal for everyone!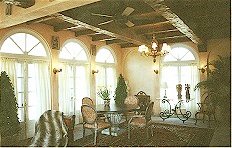 Should this mediterranean influenced room be painted in silver stripes? No thanks!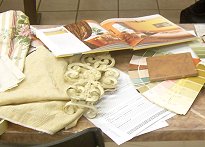 Just a few pieces from our massive reference material collection: books, curtains, tiles, color cards, and ornaments.
Nancy, from California, faux painted this in less than two hours, perfectly matching the tile and style of this "Old World mediterranean" scenario!





Graduates, you'll love the new scenarios. New to us? You're in for a rewarding challenge in the faux world!