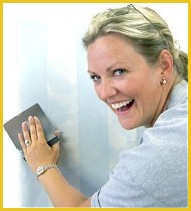 "Decorative Painting" is the one of the most profitable, creative, and lowest cost business start-ups in the U.S.A. today!
Do you enjoy being creative? Would you like to learn decorative painting skills at a truly professional level?
Please continue reading below to learn about a special offer which will help you on the road to your success in this exciting field!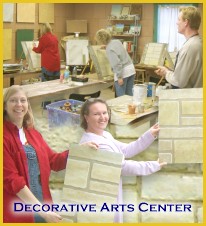 ATTEND DECORATIVE PAINTING SCHOOL!
The "Decorative Arts Center School for Faux Finishes" is one of the oldest and most respected faux finishing, Trompe l'oeil - mural painting, and venetian plaster schools in the nation. The "DAC" is the only american painting school recognized by Germany's esteemed "Painting & Lacquering Guild". Entrepreneur Magazine, Better Homes & Gardens, HGTV, Weekend Makeover, and several European publications have recognized the "Decorative Arts Center" as an authority in the art and business of decorative painting.
---
Get training in any of the three major categories:
---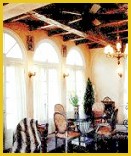 Faux Finishes: using paint to imitate a natural resource such as leather, marble, wood, stone. Also any type of "wall finish" creating depth and interest on a surface.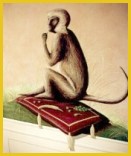 Trompe l'oeil - Murals: a combination of painting techniques to create a 3-D illusion on a flat surface, such as a fake window with a scene.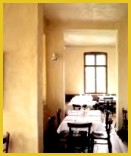 Venetian Plasters & Textured Finishes: applying a colorized plaster as an end finish, or creating a texture and then faux finishing it.



---
Start earning $400-$1000 daily in painting!
---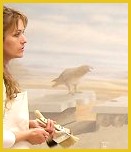 BECOME A SUCCESSFUL "DAC" GRADUATE!
The "DAC" has one of the highest "class to field" ratios in the industry. Students actually go into the field and are successful by using the "easy to follow" faux painting class instruction. Several "DAC" graduates have been featured in national publications and are regarded as the best-trained faux finishers and muralists by clients and designers in their field!
"The comfortable, intimate class size and the clear instruction of the techniques, encouraging us to develop our own "signature" style, lit a fire in me. We worked eagerly, Brian was always encouraging, and our final illusions in paint and plaster were very surprising"
Sabrina G., Ohio
"Your faux painting methods saved me a lot of money, time, and energy and the results are better than ever"
Lauren B., Florida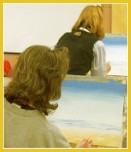 ANYONE CAN DO IT WITH THE RIGHT TRAINING!
We have trained homeowners, hobbyists, painters, artists, contractors, designers, working decorative artists, businesses, nurses, real-estate agents, computer technicians, retirees, the list is endless...even a model as well as an actor chose the "Decorative Arts Center School for Faux Finishes"!

"I have been so busy lately. Since your class I have made about 14k. Ok, not to brag. Your class is what got the contract signed."
Crystal Q., Texas
"Business is running at a very brisk pace and I already have over three months booked up this year. I took Brian's advice and moved my rates up without losing a single bid. I've taken almost five weeks of vacation which I almost felt guilty about (I said "almost")".
Louie B., Minnesota
"I've attended a lot of classes in my time and this was the best "art and business" instruction of any course"
Heather T., California
---
Enjoy benefits that no other "faux school" offers!
---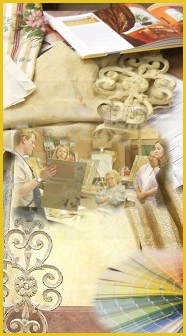 DAC LIFETIME FAUX SUPPORT
The "Decorative Arts Center School for Faux Finishes" is the only faux finishing school with "Lifetime Continued Faux Support". Class graduates receive the benefit of lifetime help, using their instructor as a mentor so they are never "out there alone".
STUDENT BENEFITS INCLUDE
*"Faux Support" (assistance on techniques, bidding, advertising, etc)
*10% off all future classes (applies to any class, no limitations)
*referral commissions (refer a new student and get 10% of their tuition in cash)
*referral database (accept faux projects in your region or nationwide)

"Thanks for helping me bid this project, I just returned from the client's and have a $2500 deposit check in my hand!"
Michelle K., Wisconsin
"The colors you suggested for my samples made the difference in the final look of this room. I also used your tip on the layers which resulted in the look I wanted with a lot less time and energy"
Doug P., Indiana
---
Learning was never so fast, fun, and friendly!
---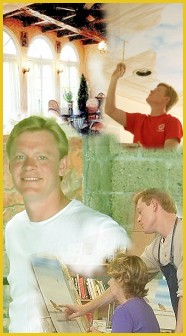 INSTRUCTOR BRIAN BULLARD
Instructor and Master Decorative Artist Brian Bullard is better known as "America's European Painter"TM. He is the only american "European Certified" decorative artist instructor who studied, lived, and worked in the trade full time in Europe. After eight years of painting villas, hotels, and the finest residences in Europe, he returned to the U.S. and opened the "Decorative Arts Center School for Faux Finishes". With 21 years of experience in the trade, Brian masters all forms of the trade including faux finishing, Trompe l'oeil - mural painting, venetian plaster, as well as business, and instructs all classes at the "DAC". In addition to being the instructor of the "Decorative Arts Center School for Faux Finishes", Brian still paints for high-end clientele in the field. He also serves on the local "Design & Review Board" as well as the "Historical Preservation Commission".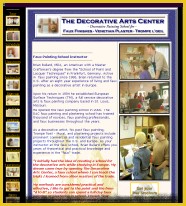 FAUX SCHOOL WEBSITE
The "Decorative Arts Center School for Faux Finishes" website is critically acclaimed for its information and ease of navigation. Online since 1996, it is one of the very few schools online which actually shows images of the classroom, students working, as well as student faux projects completed in the field.
"My hope was that the class would be just as good as the website, and it was!"
Alaina T., Arizona
"I quickly found out what class I wanted with all the details including the cost, number of samples, and what I would learn in the class. The website and the class far exceeded my expectations"
Michelle K., Wisconsin
"This is by far the most informative faux school website I have ever found"
Rory L., Canada
---
Take advantage of this special offer!
---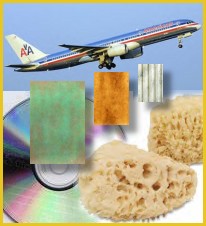 SPECIAL CLASS OFFER!
The "Decorative Arts Center School for Faux Finishes" is assisting its national-level students through a special grant which consists of:
*$200 travel credit (applies to air tickets as well as driving mileage)
*$50.00 gift certificate for art supplies, paint, etc.
*Free CD with royalty-free sample images from class for you to use in brochures, portfolio, website, etc.
(offer applies to any class of four days or longer)
---
Click the logo or any link below to continue...
---

Tour
Classes
Schedule/Prices
Classroom
Instructor
Sign-up/Brochure Request
Testimonials
News
SiteMap