---
Classic Pet Portraits
---
Our "Pet Portraits" class will guide you through the entire process of creating a pet portrait. Bring photos of any pet: cat, dog, bird, hamster, whatever you desire!
The class begins with a study of each pet: proper composition, placement, contrasts, backround options, etc. We will then use "help methods" to resize and transfer your pet portrait image as necessary. After a refresher in basic painting techniques, the pet portrait is painted with acrylics with guidance from your instructor.
Special note from instructor Brian Bullard: "Hundreds of students have adored the portraits of my cats displayed in the school. When painting clients realize I can do pet portraits they are "hooked". Almost anyone is willing to pay good money for a portrait of their pet, and I have painted them on canvas as well as into murals throughout the years".
Uses: Pet portraits for use on canvas, in murals, on furniture as well as other objects.
Prerequisites / Skill Level: DAC Trompe l' oeil - Mural class or experience in mural painting. Please contact us if you have concerns. As usual, no drawing skills required at all! If you would like to commission a pet portrait, prices start at $500 and we have a current wait time of two weeks, please contact us from the link below!
Tuition: $750 ($200 deposit)
Duration: 2 days
Mural Samples: 2 each, 12x16 hardback canvas panels painted in acrylic. You will receive instructions concerning your pet images and formats during registration.
Hours: 9:00 a.m. to 5:00 p.m.
---
Next Classic Pet Portraits:

---
| | |
| --- | --- |
| | for the schedule |
| | to pre-register for a class |
---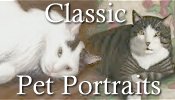 What is a pet portrait worth? To the owner, it's priceless; to you, at least the class tuition on your first project!
"Niles", 1997, Acrylic on Canvas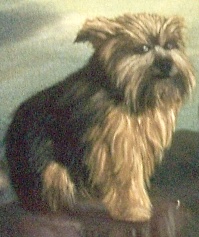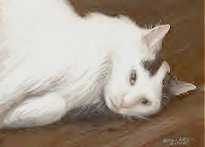 "Maus", 1997, Acrylic on Canvas

Birds and other animals welcome too!