---
Spring Faux Painting Fever Class
(always the first two days of a "Threeday"
Faux Finishing & Business Class)
---
"Spring Faux Painting Fever" class is an invitation to start your journey into faux painting or sharpen your existing faux painting skills. You will be faux painting the entire two days of the class, not just a few hours. As usual, all faux painting materials and tools are provided, bring yourself and the will to create.

The painting class is 14 samples, the most popular applied fundamental techniques and faux finishes on the market, click the links to see.

Day One- Basic Faux Painting
Learning basic faux finishing which are the foundation of faux painting: blending, colorwashing, layering, and "shooting", painting stunning faux finishes including faux leather, faux parchment, stone blocks, cracks, and other faux painting effects. Extensive instruction on mixing faux painting glazes with any brand of paint and "Basic Faux Painting & Preps Made Easy".

Day Two- Advanced Faux Painting
Using the same techniques to create realistic faux finishes. Portoro, Carrara, and Granite faux marble, graining Burlwood, Bird's Eye Maple, advanced block painting, inlays and more. You will learn to analyze in layers, enabling you to paint any faux finish that you will be faced with.
Note: This faux painting class is not a substitute for the business faux painting class and is strictly faux painting. It is ideal for homeowners, beginners who are not sure if they will start a faux painting business, and established faux finishing businesses who want to learn our non-product faux painting methods and techniques. If you plan on starting a faux painting business you need the "Threeday Faux Finishing and Painting Business Class" , info by clicking here .
Prerequisites / Skill Level: None. Every learning level, from homeowners, hobbyists, college students, painting contractors, to future decorative artists and existing faux painting businesses.
Samples: 14 samples with multiple effects, 14" x 22" in size
Length: two days
Class Size: maximum of six
Hours: 9:00 a.m. to 4:00 p.m. daily
Includes: Lunch, drinks, samples, use of tools & materials, class notes with step-by-step instruction and color references.
Tuition: $750 ($300 deposit)
---
Next class: see schedule!
---
| | |
| --- | --- |
| | for schedule / pricing! |
| | to pre-register for this class |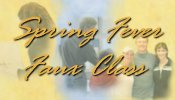 Completely waterbased! No special faux painting products, tools, or materials to buy before or after the course! You can use any brand of paint after the class!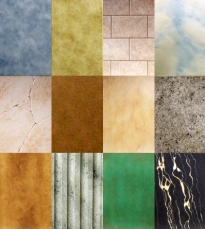 Some of the most commonly used & sold faux finishes in the field! Watercolor Wash - Parchment - Formal & Informal Stone Blocks - Simple Sky - Trompe l'oeil Cracks - Leather - Antique Wash - Granite - Burlwood - Carrara Marble - Verdigris - Portor Marble - Simple Woodgrain
---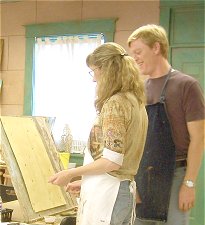 You will be painting 14 of
some of the best faux
samples in the industry!