---
The City of Greenwood, SC
---
Greenwood, also known as the "Emerald City", dates back to 1823, when a 600 acre plantation was built here and named "Green Wood". By the 1890's, with an established railroad connection and a progressive uptown development, Greenwood became an economically advanced member of the "Upstate"of South Carolina. Thriving cotton mills, used in the processing of textiles, developed their own smaller communities within the town, complete with mill-financed housing and local businesses as well as churches. Several "mill villages" still stand today in Greenwood, mostly brick and in "Craftsman" style. The developments were a precursor to famous architect Frank Lloyd Wright's concept of "Usonian" living (simplified living, in a community, built solidly, with locally accessible and affordable materials).

Greenwood continued to thrive throughout the 20th century, attracting global companies such as Monsanto and Fujifilm. Into the 21st century, the City of Greenwood has maintained a steady and successful focus on the revitalization of its historic "Uptown" district, support of local business, events, and attractions.

Lake Greenwood, with its 212 miles of shoreline, was built by the Civilian Conservation Core during the "Great Depression". One of the largest lakes in South Carolina, it offers a plethora of flora and fauna and is a very popular spot for boating and fishing.

With ten major golf courses in its immediate radius, and within one hour of the annual "Masters" event in Augusta, Georgia, the city is often called a "golfer's hideaway".

A restaurant revivial has taken way in the past decade, offering new cuisine to residents and tourists. Among favorites are "Pascal's", featuring french-influenced cuisine in a stylish atmosphere, and "Ordes of England", an authentic pub and restaurant set in a restored villa at the tune of a one million dollar investment.

The nearby town of "Ninety-Six" is home to "Star Fort", an earthen defensive structure from the revolutionary war, which witnessed an awesome siege and battle.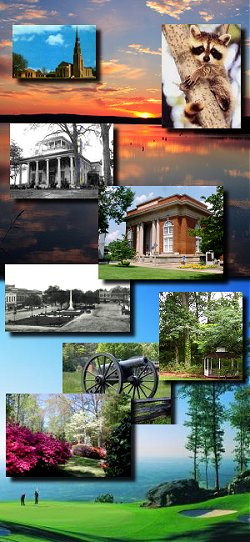 The historic city of Abbeville, just west of Greenwood, is centered around an old-time town square that was featured in the movie "Sleeping With the Enemy". "Steel Magnolias" was also filmed at surrounding locations. The "Burt Stark House", where Jefferson Davis finally decided to end our country's terrible Civil War, is one of the most toured homes in South Carolina. "Secession Hill", where citizens gathered with the initial idea of creating the Civil War, stands nearby.
Retirees from all over the world have decided to call Greenwood their new home. With its mild climate, variety of architectural styles, and central location to many popular spots such as Greenville, the city offers access yet the quiet, peaceful life that so many desire. Greenwood is also a haven for wildlife. Eagles, owls, hawks, and vultures soar the skies. Keep a watchful eye in neighborhoods for the curious raccoons, squirrels, occasional fox, and maybe even a bobcat. Contrary to local urban legend, snakes are hard to find, they don't want anything to do with human beings or our invasive devices. The "Greenspace" interconnects throughout the city, offering the needed shelter for our furred and feathered friends.