---
THE EXTERIOR MURAL EXPERIENCE:
Trompe l'oeil & Mural Painting Class
---
Students, along with the instructor, will create and complete this Trompe l'oeil - mural painting on a 15x30 ft. prepared brick surface.

Learn design, blocking, blending, lining, light and shadow effects, transferring, projections, and many other techniques and effects used in exterior Trompe l'oeil - mural painting. Paint in a team with instructor Brian Bullard and our special guest muralist and fine artist, Douglas Coggeshall (coggart.com) from Chicago!

Safety comes first. If you are not comfortable on the ladder or scaffolding you will be assigned to ground level painting.

Students must have:
*a signed liability release form (we supply this)
*proper footwear (boots, work shoes, or tennis shoes)
*proper dress (casual, street or painter's clothes, jacket that can get paint on it).

No drawing skills are necessary, no experience required for this Trompe l'oeil - Mural class! You only have to be able to trace and transfer on paper & follow instruction. If you can only fill in with a brush we want you on the team! If you have experience but want to get out for the challenge and to learn even more, you're welcome here!

You will leave this class with a strong knowledge in the principles of Trompe l'oeil and mural painting for exteriors. The project will be documented on CD and you will receive a free copy for printing / portfolio use.

"I'm hyped about this project and the events planned around it. We have a new look at the school and on the web. Our alliance with "Francesca's Antiques" next door has enabled the SoHa art gallery and exterior mural class to emerge simultaneously! Please feel free to call me direct right now, I would love to have you as team member at this excellent art event! 314-973-2787"

Prerequisites / Skill Level: None, patience and attention to detail is required. Every learning level, from homeowners, hobbyists, college students, painting contractors, to future decorative artists and existing faux, Trompe l'oeil, or mural businesses.

Length: four days, Thursday-Sunday
Hours: 9:00 a.m. to 5:00 p.m.
Cost: $1200.00
Includes: daily lunches, use of all tools and materials, invite to the SoHa Art Gallery grand opening event on Friday night, free CD with images of the entire process to completion.
---
THE EXTERIOR MURAL EXPERIENCE:
MAY 15-18, THU-SUN

to pre-register
---
| | |
| --- | --- |
| | to view the instructor's work |
| | for class schedule / pricing! |
| | for more on SoHa Art Gallery |
---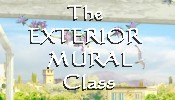 For a larger image
and description!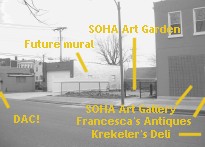 SoHa is "South Hampton"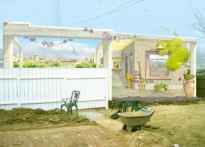 Italian Village Scene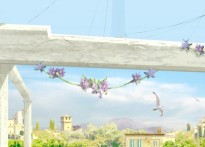 Landscape & Ruins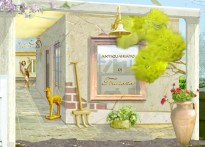 "Francesco's Antiques"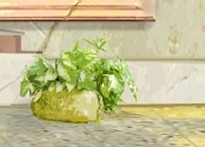 Plant Study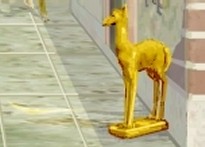 Gilded Antique Detail

For a larger image and description of the mural!