---
"Threeday" Faux Finishing
& Painting Business Class
---
This is a condensed and easy to understand faux finishing business class which will teach you how to paint, price, and sell faux finishing with success as a business! If you are starting a faux finishing business or improving existing skills, this course is for you! Hundreds of businesses have been established or improved by our class!

Day 1- Basic Faux Finishing
Learn the basic faux finishing techniques which are the foundation of the faux finishing business: blending, colorwashing, layering, and "shooting", painting stunning finishes including leather, parchment, stone blocks, cracks, and other finishing effects. Extensive instruction on mixing the faux finishing glazes with any brand of paint and "Basic Painting & Preps Made Easy".

Day 2- Advanced Faux Painting Using the same techniques to create realistic faux finishes for your business. Portoro, Carrara, and Granite marble, graining Burlwood, Bird's Eye Maple, advanced block painting, inlays and more. Learn to analyze in layers, enabling you to paint any faux finish that you will be faced with.

Day 3- Faux Business Design &
The Faux Finishing Business $$$
Color cards, mixing, and matching, selecting the proper value, color and faux finish, creating mock-ups, identifying given settings, elements and more are covered in the "design" portion of the class. A faux finishing scenario is given to each student and they paint a faux finish design sample for a mock project with help from the instructor. Students also create an itemized list of services and prices on a contract.
Easy to understand but everything you need to know: the business of decorative painting. Specifically for establishing a new or revising an existing faux finishing business. Topics include registering the business, liability and disability insurance, essential faux business inventory, naming the faux finishing business, where and how to advertise your faux business, website pro and cons, buying painting materials with business discounts, quarterly and annual taxes, deductions and how they work for the faux finishing business, pricing all faux finishing services, unintimidating contracts that protect the faux business, lowering business costs, merchant accounts, printed materials for your business, expanding areas for increased income, business vehicles, portfolios, faux business marketing, working with designers, paying commissions, selling clients on faux finishing projects, settling business disputes, care of a faux finishing project, collecting payment and more.
This is vital business information pertaining specifically to the business of decorative painting and faux finishing.
Prerequisites / Skill Level: None. Every learning level, from homeowners, hobbyists, college students, painting contractors, to future decorative artists and existing faux businesses.
Samples: 15 samples with multiple effects, 14" x 22" in size
Length: three days
Class Size: maximum of ten
Hours: 9:00 a.m. to 4:00 p.m. daily
Includes: Lunch, drinks, samples, use of tools & materials, class notes with step-by-step instruction and color references.
Tuition: $1200 ($400 deposit)

---
Next "Threeday" Faux Finishing
& Painting Business Class:

for the Schedule
---
| | |
| --- | --- |
| | to see more images |
| | for schedule / pricing |
| | to pre-register for this class |
---

Next "Threeday" Faux Finishing
& Painting Business Class: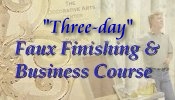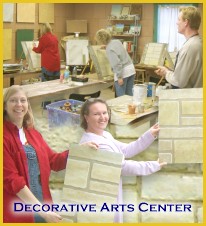 Images: a few of the finishes
learned in this exclusive
faux finishing class!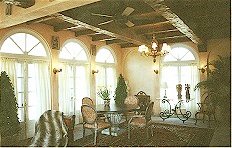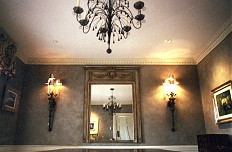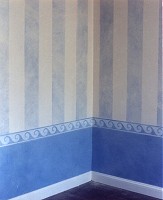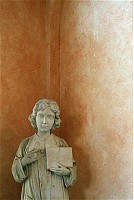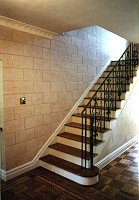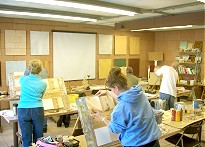 Students working on
upright easels in class


Mediterranean Dining
Room Project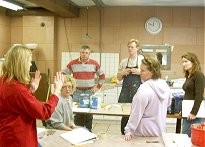 To see more "Day 3 Scenario"
painting projects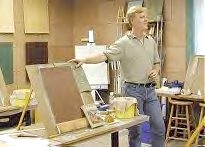 A completed class scenario with
faux leather and woodgraining

---
No special faux finishing
products, tools, or materials
to buy before or after the
course! You can use any
brand of paint after the class!
---